Custom App Development
Ecommerce App Builder or App Development Services – That is the Question!
Shahrukh Satti
08-Aug-2023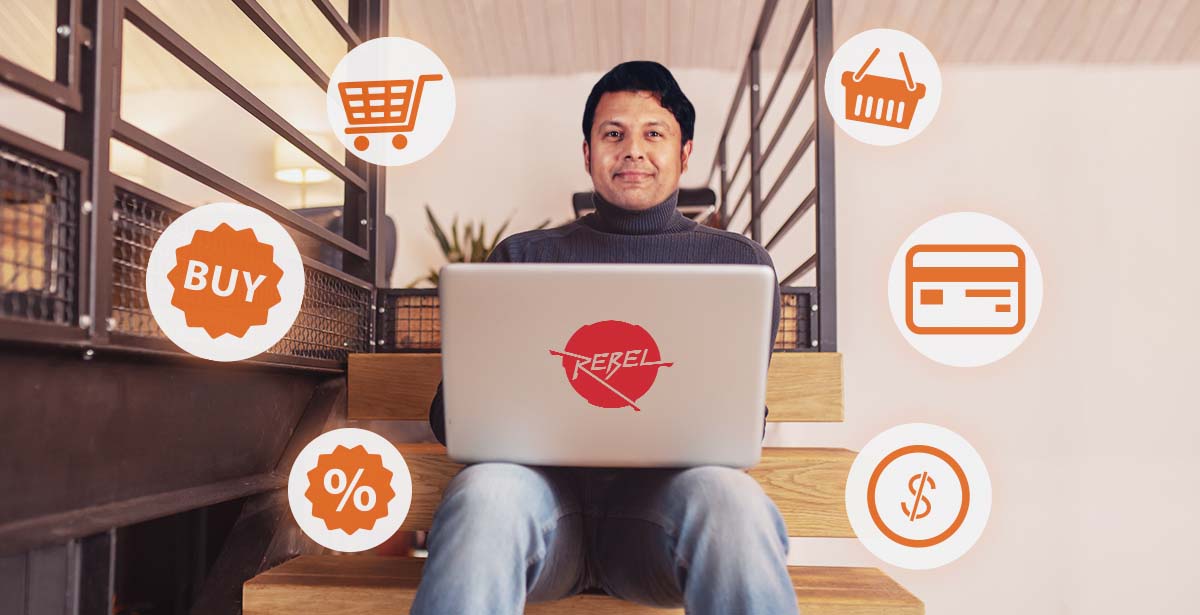 With Mcommerce sales expected to reach $534.18 billion in 2024, more appreneurs are exploring the possibility of using an ecommerce app builder. After all, such platforms allow them to create the apps they need with added convenience and at lower costs.
Question is – are app builders really a better choice than custom ecommerce app development services?
But First, What is an Ecommerce App Builder Really?
An ecommerce app builder is a platform used to create and customize applications for selling products or services online.
It features a user-friendly interface with pre-designed templates, drag-and-drop functionality, and integration options.
App builders benefit non-technical users, allowing them to create apps without hiring developers or learning programming.
The backend technology and infrastructure is already there – users simply need to add their content and customize their apps as needed.
The platforms may also offer features like product catalog management, payment processing, order tracking, and push notifications.
With these, a business can improve the ecommerce experience for both its customers and itself.
What Does Ecommerce App Development Mean?
Offered by software development companies or agencies, commerce app development services are the traditional option for creating apps.
They help businesses establish a strong online presence and efficiently sell products or services via mobile devices.
As part of this service, ecommerce app developers provide the following:
Consultation and planning the app's features, design, and functionality
UI/UX design to ensure the app is user-friendly, visually appealing, and optimized
Coding to develop features such as product catalog, shopping cart, user accounts, and payment processing
Integration with third-party services such as payment gateways, inventory management systems, and customer relationship management (CRM)
Security measures like encryption, secure login procedures, and protection against threats such as data breaches
Rigorous testing to identify and fix any bugs or issues; this includes functional testing, compatibility testing, and security testing
Deployment to app stores or enterprise distribution platforms for user access
Continuous monitoring and regular updates to ensure the app functions optimally, remains secure, and adapts to changes in technology or user needs
Optimization to improve the app's performance, user experience, and conversion rates
Technical support and assistance to address user queries or issues
Ecommerce App Builder vs. Traditional App Development
So, how does an ecommerce app builder compare to the traditional development process? Let's take a quick look.
Time to Design
An ecommerce app builder usually offers pre-designed themes that you can customize to match your brand. This spares you from spending too much time on a complex process that demands a lot of iterations.
That said, traditional ecommerce development services take the time to make an app truly stand out.
While you may be more concerned about function, remember that users see the visual first. Good UI/UX is also a must to increase ROI and lower the time and expense invested in fixing app problems.
Time to Development
An ecommerce app builder usually comes with pre-designed templates and components that allow you to save time on development. As a result, the platform usually promises faster time to market.
Alternatively, developing an ecommerce app the traditional way will take up three to eight months of your time. However, this duration is justified considering it encompasses the time for –
Precisely customizing every aspect of the app to meet the exact needs and branding of the business
Optimizing the app's performance, responsiveness, and efficiency
Building a scalable app that can easily accommodate future growth and evolving business needs without significant redevelopment
Implementing unique and innovative features that set the app apart from competitors
Adding a higher level of security customization, reducing vulnerabilities and ensuring data protection
Integrating various third-party services, APIs, and existing systems to enhance functionality and user experience
Simply put, the more complex the app, the more time it'll need.
Features and Integrations
When it comes to features and integrations, an ecommerce app builder pales in comparison with custom app development.
Ecommerce app builders offer convenience with pre-built templates and integrated features, making them suitable for basic online stores.
However, their customization potential is limited. Plus, the platforms may lack advanced or unique functionalities.
On the other hand, traditional app development are flexible enough to tailor features and integrations to your specific needs.
This means you can get sophisticated and custom-built solutions that accommodate complex requirements. In short, you'll receive greater versatility and scalability.
Cost of Development
Using an ecommerce app builder may seem more cost-effective upfront than traditional app development.
On average, you can expect to pay $10 to $300 per month for your subscription, or $500 or more for one-time purchase options and enterprise-level plans.
With app builders, businesses can significantly reduce their initial expenses as these platforms require little to no coding expertise.
Moreover, app builders usually come with subscription-based pricing models, allowing businesses to pay as they go.
On the other hand, traditional app development typically demands a higher upfront investment.
Custom coding, design, and feature development require a skilled development team and more time. These alone can translate into greater development costs.
Yet many ecommerce businesses still choose the traditional way over ecommerce app builders. That's because they consider long-term factors such as scalability and maintenance.
In such cases, custom app development may provide better value over time despite its initial expense.
Deployment and Support
Some app builders feature elements and frameworks that enable your app to comply with app store guidelines. However, this is more likely to be a premium feature that you'll need to pay extra for.
Moreover, there is still a chance your app may not be approved as the process tends to be rigorous.
As app developers are committed to supporting you, you can expect them to be more invested in your success. Therefore, they will ensure your app's deployment and provide whatever help you need even post-deployment.
Ongoing Maintenance
Ongoing app maintenance is crucial for optimal performance, security, and user experience.
It entails fixing bugs, updating features, and adapting to new technologies. This, in turn, prevents app glitches, enhances user trust, and keeps the app competitive.
Not every ecommerce app builder out there may offer comprehensive maintenance.
Some may handle updates and bug fixes, but those usually come with a hefty price tag. Besides, you yourself will have to handle majority of the work.
In contrast, traditional app development places the responsibility for maintenance squarely on the business or development team.
This means you won't have to worry about monitoring for software updates, addressing bugs, and adapting the app to evolving technologies.
So, Which Option is the Best for You?
If you need further clarity on whether to subscribe to an ecommerce app builder or work with real developers, the next lines are for you.
When to Choose an Ecommerce App Builder
You can go for this option if you value –
Speed, as the platforms offer pre-designed templates and a simplified development process
Cost efficiency since they're usually more budget-friendly upfront
Accessibility to non-technical users because app builders are no-code or low-code
Support to help you whenever you face an issue or handle updates and maintenance
Just keep in mind that these come with several downsides, mainly –
Less flexibility to add unique features or complex functionality
Inability to scale as your business grows or requires costly upgrades
Cookie-cutter designs that cause your app to look similar to others using the same template
Dependency on the app builder platform, limiting control over your app's code and data
Because of the above, an ecommerce app builder can be more suitable for startups and small businesses with limited budgets. It's also a valid option for any business that needs a quick, basic mobile presence.
When to Opt for Traditional App Development
You can always hire ecommerce app developers if you have complex needs, unique branding, and long-term growth plans. This choice is also a good one if you prioritize –
Full control over design and functionality, allowing for unique features and branding
Scalability to match your business' growth and accommodate complex requirements
Better performance as you can optimize the app effectively
Independence from any platform or service provider
For these, however, you need to be prepared for a slightly longer time to market and several additional costs. This may not necessarily be the case if you select the right app developers for the job.
Think an Ecommerce App Developer is the Best Choice for You?
The choice between an ecommerce app builder and traditional app development depends on your business requirements, resources, and strategic goals.
However, if you feel that an app development team is what you need, we're here to discuss your next app with you. Let us know what you need in the form below and let's get to work together.