Custom App Development
Shopping Around for Your Next Grocery App Development Project?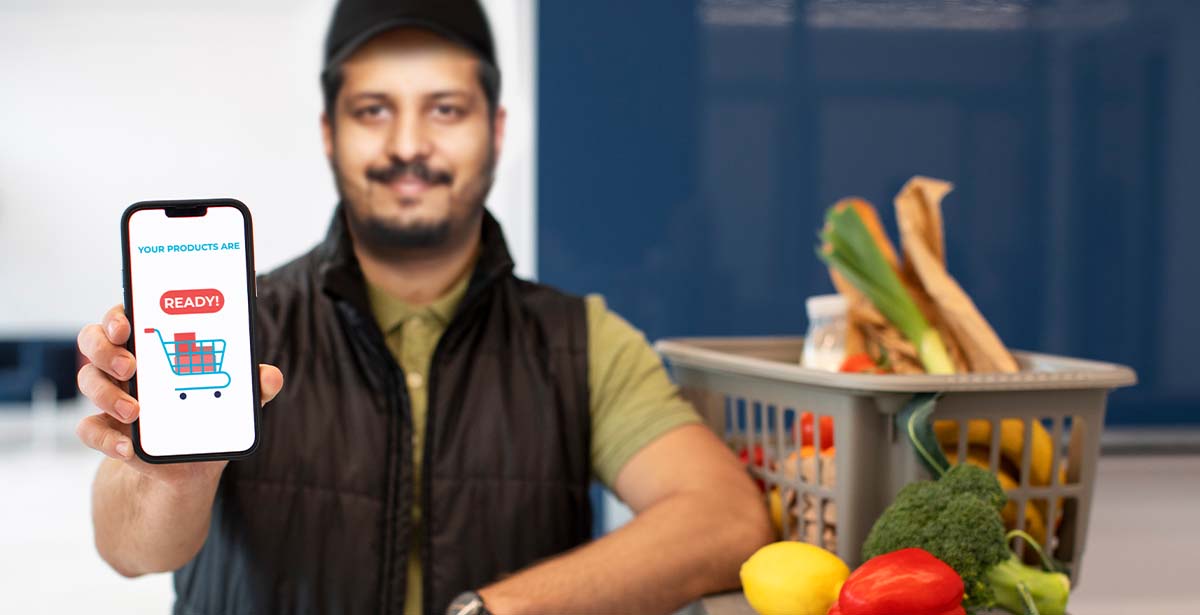 Grocery app development isn't slowing down any time soon.
In fact, the global Online Grocery industry report predicts the market size to surpass $2,160.7 billion by 2030, growing at CAGR 19,97% between the years 2022 and 2030.
If you think this is the market you wish to establish yourself as an appreneur in, here's everything you need to know.
What are Grocery Apps?
Grocery apps are the next big thing in the retail industry. They allow grocery stores and even entrepreneurs to tap into the on-demand economy market by delivering what users need – anywhere, anytime.
In addition to doorstep delivery services, grocery apps can be used to offer pick-up options. This is especially beneficial to reel in clients who fear substandard items if they shop online.
What are the Benefits of Grocery App Development?
One of the best things about grocery delivery app development is that they deliver several advantages to both you and your customers.
Benefits of Grocery Apps for Buyers
People are shifting from shopping at brick-and-mortar stores to shopping via grocery apps for numerous reasons, mainly –
Fast and Easy Shopping – Grocery apps add convenience, ease, and speed to users' shopping experience. Shoppers can easily find what they need in categories or by searching the app. Moreover, they can get what they need delivered right to their door.
Time Savings – Customers no longer have to schedule visiting the store to get what they need. Instead, they can schedule deliveries and be done with this chore within minutes. Plus, no queues! So, buyers no longer have to discard their carts in a hurry.
Money Savings – Majority of grocery applications include a tab for discounts or offer regular coupons. This allows them to never miss out on deals and save more on their purchases.
Order Scheduling Convenience – Not only can shoppers pre-order some items, but they can also subscribe for recurring orders. This ensures they never run out of necessities.
Easy Product and Price Comparisons – Buyers can easily compare the prices of different brands before adding to their carts.
Order Tracking – Order tracking is one of the main reasons grocery app development is booming. Customers can find out the status of their orders with a few taps and make sure they're available to receive them.
Budget Management – Many customers enjoy grocery shopping via apps because they can monitor their spending. Plus, as they won't be roaming around aisles, they'll be spared from the temptation of buying unnecessary things.
Benefits of Grocery App Development for Appreneurs
Whether you run a grocery store or are interested in creating an app for this sector, you too can gain a lot from creating a grocery app.
Improved Order Management – Grocery apps provide buyers with a variety of payment methods that are secure and convenient. This, in turn, enhances order management.
Enhanced Business Operations – Investing in grocery app development will have more than one positive impact on your operations. For starters, the app can help improve inventory management when integrated with an inventory system. The app can further support non-stop business if it allows users to reserve items or schedule deliveries.
Loyalty Initiatives – Customer loyalty is a must for growth. A grocery delivery app can easily include loyalty programs that entice existing users and inspires them to add new ones. Your loyalty points will especially be a hit with users if they allow them to save more.
Accurate Behavior Monitoring – Your app may help retails better understand customers' needs and behaviors. This allows them to make more informed decisions such as concentrating on popular items.
Potential of Mobile Advertising – You can benefit from creating highly usable grocery apps. The more engaged customers are, the more likely you'll receive offers for mobile advertising.
Higher Sales and Profit – With more people enjoying grocery shopping via apps, getting sales will be much easier. Therefore, with the above benefits as well, your profit margin will improve.
Things to Include in Your Grocery App
If you're enticed by the idea of huge profit and the other benefits you read, you need create a great grocery delivery app. For that, here's a list of features you should include in your upcoming app.
Multiple Registration Options
Allow users to login to the app using their socials as well as email address.
Most importantly, keep the registration procedure quite simple and straightforward. That way, people can quickly access your app's content and start shopping immediately.
Wish List
A wish list enables shoppers to save items that they can buy for later purchases.
It doubles as a shopping list for their next delivery. So, make sure to add it so they can reap their benefits and, therefore, help you get yours.
Store Pick-up Option
Grocery store decision makers should consider adding a pick-up option to their apps. This will make the app useful even for the 28% of adults who aren't making online purchases.
Besides, it shows your commitment to prioritizing customer satisfaction.
Customer Feedback and Reviews
Allow your app's users to provide reviews on both you and your product offerings. Not only can this help you improve your offerings, but it can also meet shoppers' need to give feedback and read reviews.
Digital Coupons
Don't be stingy when it comes to ways to help your buyers save. In addition to tempting loyalty programs, you can offer reward programs and digital coupons. These will engage more users and ensure they use the app often.
Item Comparison
Shoppers like comparing products to get better value and quality. So, ensure that your grocery app development team includes a comparison feature.
Besides, this will keep your customers in the app instead of making them navigate away to do their research.
Multiple Payment Options
Your buyers should be able to select from a variety of payment options beyond debit and credit cards. You can also include a wallet they top up for future purchases.
Enhanced Features
Grocery app development can be quite innovative with the help of artificial intelligence and other 4th Industrial Revolution (4IR)technologies.
For instance, you can use AI to predict additional items for buyers' carts based on previous and current purchases.
Tips for Effective Grocery Delivery App Development
Since you're here to learn about grocery app development, you should get a few tips to make this right. So, without further ado, here are some gems from the experts.
Determine the Type of Grocery App You Want
Depending on your business model, you need to pick the right type of grocery delivery app. The five options you have are
Aggregator apps that connect stores with shoppers without managing purchase deliveries
Marketplace apps; while similar to aggregator apps, app owners manage and perform deliveries.
Single store apps that extend businesses' reach beyond brick-and-mortar and online
Grocery chain apps like Walmart which allow shoppers to deliver from any of their stores
Personalized grocery apps for appreneurs who wish to partner with grocery store owners and delivery businesses
Get Familiar with the Common Technology Used for Developing Grocery Apps
The type of tech stack used for your app is determined by its look and functionality.
For instance, Node JS and PHP can be used for backend development. Whereas Node.js allows data to be pulled seamlessly, PHP offers access to more database management systems options.
If you don't have a technical background, don't worry. The right implementation partner will guide you to ensure your app best meets your needs.
Personalize Your App's Experience
Your app should include every possible feature to make users feel that the app is for them and them alone. For example, you can include a profile feature and greet by their first name every time they use the app.
Other personalization features include access to favorites, repeat orders, and AI powered tagging. Shoppers love these details and will eventually love your app.
Choose the Right Team
Grocery app development experts may be hard to find, but not altogether impossible. You just need to find people who have –
A proven track record of successful apps built
High level of expertise working with similar applications
A portfolio of apps that can vouch for their ability to deliver your project
So, contact the experts and ask the necessary questions to make sure you have the best team by your side. And you may not need to go too far because…
We at DPL Would Love a Shot at Your Grocery App
DPL's workforce comprises experienced developers with years of Agile development experience. We have worked with a wide range of clients across various industry verticals.
So, tell us about your project in the form below.