Custom App Development
Healthcare App Development – Everything to Know for 2023 and Beyond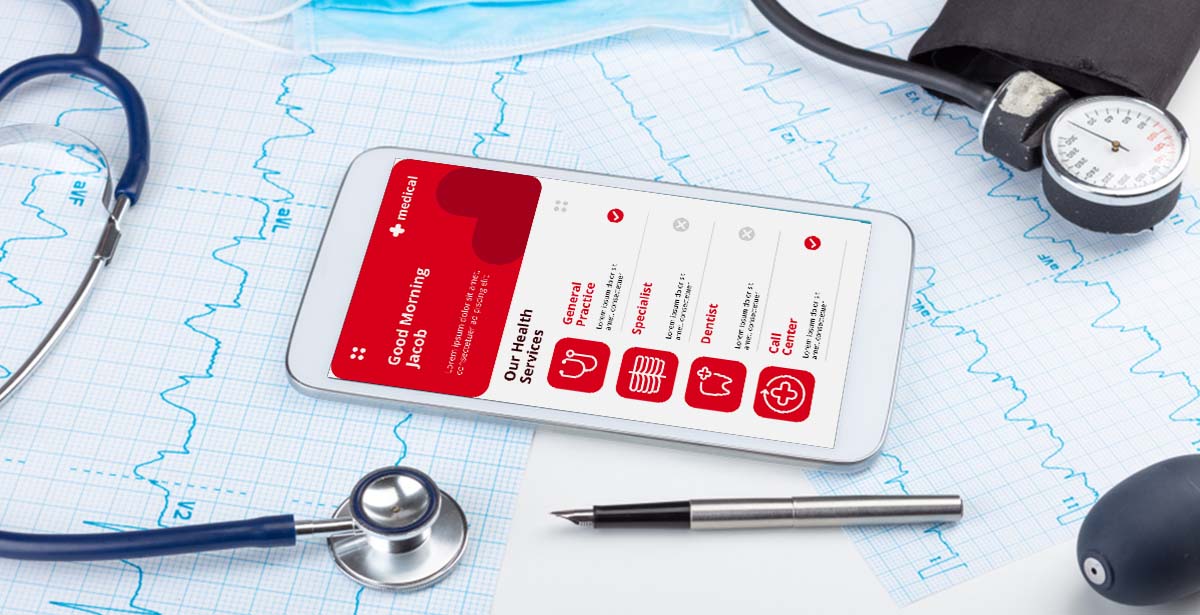 You can't go wrong with healthcare app development. Just the mobile health (mHealth) market is expected to reach $293.29 billion at a CAGR of 29.1% by 2028.
So, whether you're a developer or a member of the healthcare industry, it's time for you to become part of a strong trend. One that would also benefit mankind as well as help you achieve your business goals.
And since you're thorough, below is important information to help you kickstart your research on this subject.
The Importance of Healthcare App Development
Healthcare apps are all types of applications that manage processes, treatment, and diagnosis. They're fulfil the medical requirements of individuals, either via web or mobile devices. This makes them faster and convenient for most patients. Even possibly reliable when developed by the right people.
So, why should YOU be one of those people?
Fast Growth of Healthcare Market
Whether you're a business person or a developer, this is one factor that'll pique your interest. As the pandemic reared its ugly head worldwide, the market value of the healthcare sector increased.
In addition to market growth, there has been a significant increase in mobile app usage. In fact, global app downloads increased by 60% when COVID-19 started.
Further indicating steady growth is your competitors' interest. In Google Play alone, the 53,054 health apps in Q1 2021 increased to 65,300 in Q4 of the same year. Records also show over $21 billion investment in digital health.
Critical Needs of Healthcare Businesses
Custom healthcare app development is especially on the rise as off-shelf options may not always meet healthcare institutions' requirements. For instance, the issue of interoperability may prevent a medical records system from connecting to other systems.
Your app can also give healthcare providers several perks they need such as –
Improving workforce efficiency, especially as it's currently dwindling
Adhering to regulations that aim at compliance and improving quality
Sharing patient data quickly and securely across the institution
Increasing patient involvement as well as their education
Helping with federal funding by showcasing healthcare quality
Benefits to Patients and Physicians Alike
Delivering a better patient experience is one of the top goals for healthcare app development. This is possible as apps have been known to improve patient health via quicker updates and the delivery or prompt care. This is especially true for patients in remote locations where doctors can't easily go.
Patients and doctors also benefit from the ease of accessing appointments and medical records. Some apps can also help with related activities such as purchasing medicines.
All of this while reducing the risk of error in the future. This can save healthcare institutions from litigation, but, most importantly, save many lives lost by medical errors.
Popular Types of Healthcare Apps to Develop
If you're sold on the idea of starting your own healthcare app development project, here are some categories to consider.
Personal Health Record Apps
Also known as medical diaries, personal health record apps help users monitor diseases. Not to be confused with health tracking apps for maintaining a healthy lifestyle, they support patients on their recovery journey. They may also alert medical staff in case a patient's condition gets worse.
Telemedicine Apps
Telemedicine apps became quite popular during the pandemic and are heavily used due the convenience they offer. These apps utilize video, phone, and messaging to connect healthcare providers with their patients and treat them remotely.
Hospital Management Apps
Healthcare institutions may be late to automation, but they have embraced it wholeheartedly. Therefore, you can consider creating an app that helps with day-to-day operations such as accounting, inventory, and medical billing.
Just make sure they complement and support other systems in the hospital. For instance, your hospital management app can integrate with electronic health record (HER) solutions to improve the management of patient records.
Electronic Health Record (EHR) Apps
One of the most important healthcare app development projects you can think of is developing EHRs. Somewhat similar to customer relationship management systems, these apps gather patient data like doctors' prescriptions and patients' medical history.
They can also be integrated with different systems across the healthcare institution. For instance, integrating them with financial modules allows accounting to ensure the accuracy of payment and invoicing.
Medical Billing Apps
With medical billing apps, hospitals can easily keep track of invoices, payments, and other processes that engage the accounting departments. This too can easily be integrated into other systems such as EHR or hospital management apps.
Medical Imaging Apps
One of the high-tech healthcare app development projects to take on is medical imaging apps.
Designed to help process different scans like MRI, these apps may include the functionality to design 3D models. With 3D modeling, technicians can create customized models for different patients. Some apps also allow users to print and design medical components.
Step-by-Step Healthcare App Development Process
Considering the many things that go in healthcare app development, you'll need to make a thorough plan. The following are recommended steps for the process.
Step 1) Start with a Digital Strategy
A digital strategy gives you the chance to identify the purpose of your new healthcare app. It further allows you to explore its use cases to ensure that it meets patients' needs. At the same time, it gives you the chance to profit from it and ensure the utilization of any new product or service down the line.
Step 2) Determine the UI/UX Design
User interface (UI) and user experience (UX) design is vital for your app development. Therefore, in addition to being creative, you need to ensure your app's user-friendliness.
Design for users by optimizing user journey in the app. You should also consider minimizing the number of actions users make to complete any tasks. Moreover, show important information once the user starts the app.
Keep design responsive as users will be using the app on different devices with different screen sizes.
Be empathetic in your design. Keep in mind that this is a healthcare app, so you need to develop it with your patients in mind.
Step 3) Identify Which Platforms and Technologies to Use
From mobile app development tools to web platforms, you need to make the choice for your application's development. If you plan to expand to IoT, you'll also need to factor on which technologies your app can work with.
For this step, market analysis can come in handy. For example, by understanding who will use your app, you can determine whether to start with a web app or a mobile one. Senior patients are more comfortable with websites whereas younger ones prefer mobile apps and voice devices.
Step 4) Do Your Homework on Healthcare Regulations and Restrictions
Even if you're well-versed in healthcare app development, revisit compliance authorities' regulations before you start. Otherwise, your app may be banned from the app store or even shut down permanently. That is if the regulators don't penalize you.
One way to effectively handle this delicate subject is to involve healthcare experts. This is easy if you follow the Agile method. Moreover, having these professionals on board will make testing the app later easier and quicker.
Step 5) Start Development
You're now prepared to begin healthcare app development. Just remember to be thorough without compromising on time-to-market to ensure your app's success.
Trends We Highly Recommend for Successful Healthcare Apps
Well, you can't have a comprehensive guide on healthcare app development without a peek into future trends. So, here are some that we expect will make a difference in health apps and the healthcare industry as a whole.
Blockchain Integration
Blockchain can effectively address the healthcare industry's need for data safety and security. It can also improve complex dataset efficiency as it can render data immutable and traceable. There are also many systems that help manage medicine supply chains and assist researchers to unlock genetic code.
Patient Generated Health Data (PGHD)
As per the Office of the National Coordinator for Health IT, PGHD is "health-related data created, recorded, or gathered by or from patients (or family members or other caregivers) to help address a health concern".
This trend is expected to become a major game changer in healthcare apps as it helps patients maintain their data and easily share it with their physicians. It can further empower analytical treatment efforts, making physicians more effective in helping their patients.
AI/ML Integration
Artificial intelligence (AI) and machine learning (ML) are already making a difference across industry verticals. In the healthcare sector, they can help with unstructured patient data as well as automate administrative tasks. They can also be used to analyze information from patients' devices in real-time.
Patient Engagement Via Online Services
Online services such as portals are far from new. However, they're still at a very initial stage in the healthcare sector. Not for long, though, as patient portals are expected to be the in-thing. In addition to connecting patients more effectively, these apps will save the staff's time.
Ready to Start Healthcare App Development?
If you're a member of the healthcare industry, DPL would love to help you on your next healthcare app development project. Simply share your ideas or connect with us to brainstorm with you through the form below.
If you're a developer, how about joining us in making the healthcare industry a better place, one app at a time? Check out our open positions to become a Rebel.