Custom App Development
How to Hire Mobile App Developers for Your Multi-Million Dollar Idea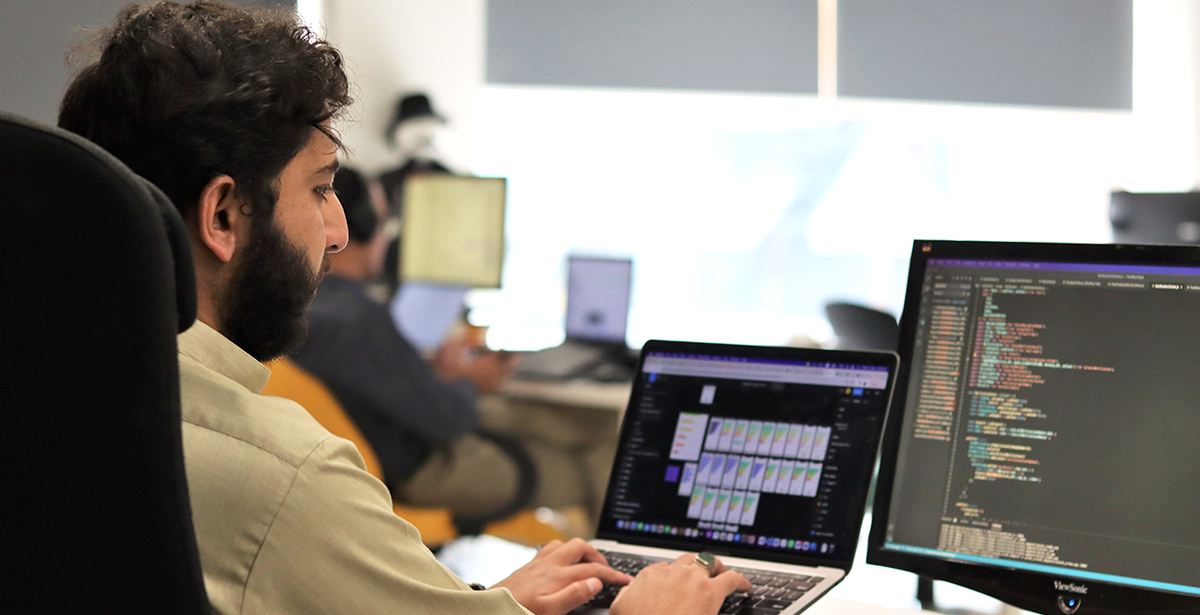 If you're planning to hire mobile app developers to materialize an app idea you have, you're on a great track to the top. The ROI alone is quite tempting; then there's the potential of the market reaching $935 billion in revenue in 2023.
However, the key to claiming your share of this market is hiring the right people. Thankfully, you're in the right place to learn how to do this.
But First, Let's Iterate the Benefits of Hiring the Right Mobile App Developers
It may sound easier (and cheaper) to create an app using a mobile app development platform. And there's always the alternative of hiring a freelancer to get this job done.
However, there are benefits of getting a mobile app development company to take over your project.
Access to Experience and Expertise
If you hire mobile app developers from a reputable organization, you'll be able to tap into their ample experience working with different industry verticals.
Its developers will also have the expertise you need to translate requirements into functional features. Therefore, your new mobile app will be in safe hands.
What's more, you can be sure of your app having the latest tech advancements. After all, developers work hard to stay up to date with the newest innovations – both for their clients and career.
Additional Services Available
Code isn't the only thing you get when you hire mobile app developers from a reputable organization.
You can rely on its UI/UX specialists to work on the aesthetics and usability of your app. You can also request their 4IR technology experts to carry out integrations that enhance the app's functionality.
Most importantly, you can task the same development team with app maintenance, i.e. the constant updating and modification to ensure performance. This saves both your time and money in the long run.
More Value for Your Money
Hiring mobile application developers provides more value since you can get your app quicker and cost-effectively.
Not only can the experts handle the complexities of developing powerful applications, but they also have the resources to do so.
Moreover, mobile development experts can effectively reduce project risk variables. This, in turn, lowers the cost of damages in case things go south.
Better Focus on What Matters
As you won't be working on your own app, you can focus on other aspects of your new business idea.
Don't worry about managing the development process.
Experienced programmers know how to effectively communicate and deliver timely reports on their progress. Especially if they follow Agile principles. So, you won't need to constantly check up on them regularly.
Now, Let's Get to How You Can Effectively Hire Mobile App Developers
In 2019, Evans Data predicted developers' numbers to hit 28.7 million in 2024.
With a big pool to choose from, it isn't easy getting the right manpower behind your next multi-million-dollar app. However, there are six important factors that can help you narrow down your choices.
Factor 1) App Requirements and Goals
You need to understand your project thoroughly before looking around to hire mobile app developers. So, you'll need to do your research on your target audience, competitors, and business model.
While you don't necessarily need to create a full-fledged document, you should be able to communicate your expectations beforehand. This, in turn, will help you and the developers decide whether you can work together on this project.
For instance, if you're looking into creating an IoT solution, the team you entrust your idea with should have the expertise to deliver.
The same applies for your app goals. So, if you're planning on having a free and paid version of your app, you'll need experienced developers who can dedicate more time to your project.
That way, they can help you build the necessary connection with your audience while prepping for monetization in the future.
Factor 2) The Type of App and Platform
Mobile app developers can help you create three types of apps –
Native Apps – Native apps are built especially for a specific mobile operating system (OS) such as Android or iOS.
Web Apps – While they behave like native apps, web apps are accessible via a web browser on mobile devices. So, users don't need to download and install code on their devices.
Hybrid Apps – Hybrid apps are web apps that look and feel like native applications.
Each of these has its own list of pros and cons that can impact your decision to hire mobile app developers.
For instance, if you're on a budget, native apps may be quicker and less expensive to create. However, you'll have to settle for slower performance and issues like features not working on all devices.
In addition to app type, the platform you choose impacts your selection process. For instance, native apps are coded using Java, React, and Python.
Like app types, these platforms have their own pros and cons. So, once you decide which one you would like for your own app, you can select an expert to use it.
Factor 3) Your Budget
For many, cost is the top factor in hiring mobile application developers. However, you should keep in mind that the price quoted to you is based on aspects such as –
Features and functionalities of your app
Complexity of UI/UX
Backend infrastructures
Geolocation of the developers
According to a survey by Clutch, the average app development project will cost between $5,000 and $10,000. Yet the cost can go higher depending on what you need. For example, a complex, multi-feature app like Uber can start from $300,000.
So, crunch the numbers realistically before you hire mobile app developers. And most importantly, ensure that your budget is flexible so that you can get most of the features you have in mind.
Factor 4) Developers' Experience and Expertise
A mobile developer's portfolio will speak volumes about their experience. You may even tap into their knowledge to finetune your idea and make it more marketable.
So, ask for examples of apps they have worked on in the past before making up your mind. And while you're at it, ask about their technical experience.
Find out if they hold any technical certifications, hands-on experience developing for different operating systems, etc. This would show they have ample, up-to-date expertise to make your app truly stand out.
Factor 5) Communication Expertise
Communication may not necessarily be the first factor on your mind, but it's an important one.
You should be able to effectively communicate with your technology partner if you wish for your project to succeed. Otherwise, you'll be wasting your resources as well as theirs.
Similarly, communication is an important aspect for ensuring the project flow. The team should follow practices that ensure you're up to speed on the project's progress or issues.
They should also be flexible so as to communicate at a time that suits you if you're in different parts of the world.
Factor 6) Project Timeline
Considering your niche or industry, you may have a strict deadline in mind to retain your app's competitive edge. Therefore, determine one and communicate it to the app developers you interview.
Alternatively, you can explain your project's details and ask them to suggest a timeline.
Factor 7) Readiness to Accommodate Modifications
Before you hire mobile app developers, make sure they're ready to make changes during development and after your app's release.
Ideally, you should look for Agile developers. Agile helps reduce risks while providing seamless project management. It further ensures higher business value, greater transparency, improved quality management, and reliable development.
One more aspect Agile helps with is quick modifications. You can easily request modifications during the project without affecting the entire development process. And the best part is that you won't have to pay huge sums for the changes.
The same team should be able to help you bring new updates and features from time to time. That way, users remain hooked onto your app and ensure its success.
But You May Not Need to Look Further for a Mobile App Developer
We have the right team right here for you. Our Agile-loving mobile developers have the experience, expertise, and drive to help you achieve your goals.
Simply get in touch with us via the form below to discuss what you have in mind. With our experience working with top brands across four continents, we can assure you that your app is in the best hands.
So, look no further than DPL to hire mobile app developers for your next project.