Custom App Development
Custom eCommerce Development Trends for 2024 You Can't Afford to Miss
Shahrukh Satti
11-Oct-2023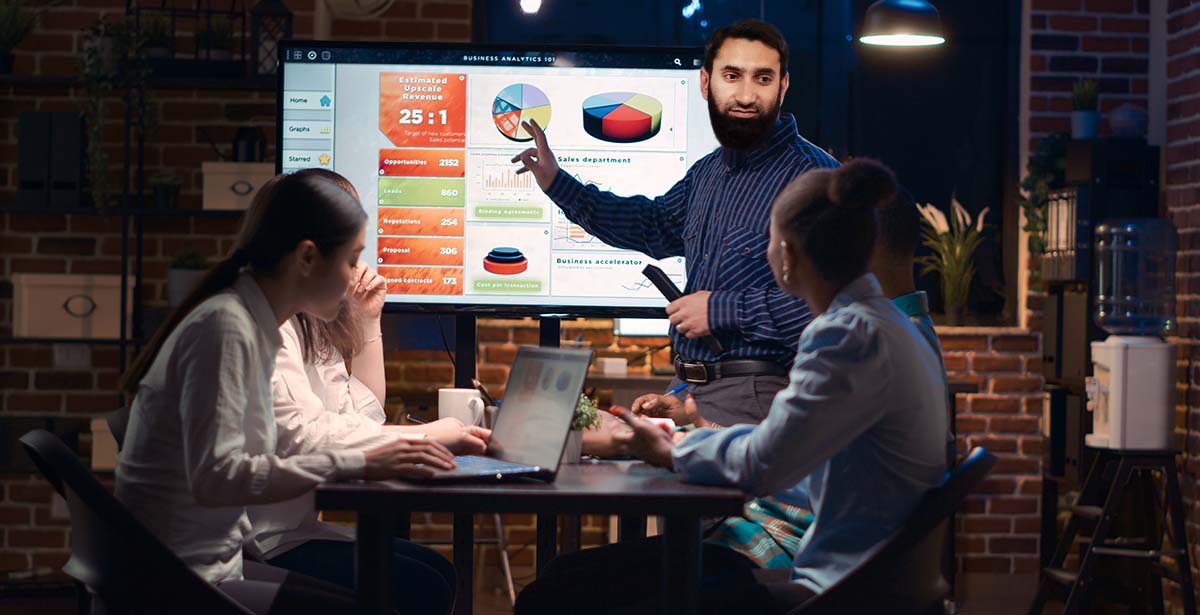 With the new year around the corner, it's time to prepare a list of work items to ensure your future success. One item you need to add is custom eCommerce development.
Custom eCommerce development entails the creation of a unique, tailormade online shopping platform that's specifically designed to meet business needs. Unlike their off-the-shelf counterparts, they provide businesses full control over the user experience, branding, and overall functionality.
However, to truly make your eCommerce solution stand out, you should be prepared for the upcoming trends. And this is what this page is all about.
"Wait. Why Should I Prioritize Custom eCommerce Development?"
Pardon the aggressiveness, but eCommerce solutions are the best idea to have for 2024. The numbers alone are enough to indicate how robust this sector is. Yet in addition to the statistics and figures, you're about to further explore why you should go down this path.
First, the eCommerce Sector by the Numbers
There are so many numbers that can inspire business owners and appreneurs to initiate an eCommerce development project. Here the top four you should consider.
According to Forbes, the global eCommerce market is expected to hit $6.3 trillion by the end of 2023. This number will increase to $8.1 trillion by 2026.
Around 57% of online customers are open to shopping internationally. This means an eCommerce platform can become a global organization.
Adobe predicts that global eCommerce sales will grow by 50% by 2026. A
Consumer electronics was the top B2C eCommerce industry in 2022. In second place came the fashion industry, followed by furniture, toys, and personal and household care. Though food isn't on this list, the industry recorded the fastest growth with a 38% increase.
Now, the Benefits of Custom eCommerce Development
The aforementioned numbers show just how lucrative this industry currently is. However, if you still need more reasons to start custom eCommerce development, here are several guaranteed benefits –
A tailored user experience as custom development helps you achieve a personalized user journey and better customer engagement and satisfaction.
Custom solutions can be scaled and adapted to accommodate changing business needs and growing customer demands.
Since your eCommerce solution is custom, it's bound to be unique. This, in turn, sets your solution apart from the competition.
Custom eCommerce solutions can seamlessly integrate with other business systems, such as CRM, ERP, and marketing automation tools.
Tailored security features can be integrated in your solution to effectively protect sensitive customer data and financial transactions.
You get to control different aspects of your solution such as its performance. This leads to a smoother and more efficient user experience.
Custom eCommerce applications can be designed with SEO best practices in mind. Therefore, you won't have to worry about online visibility and search engine rankings.
While initial development costs may be higher, custom solutions often lead to cost savings over time. After all, you'll be eliminating the need for multiple third-party plugins and tools.
"Okay, So What Are Your Top Custom eCommerce Development Trends?"
Now that I have your attention, let's explore the six trends you need to incorporate in your next eCommerce solution.
1) Voice Search During Online Shopping
Voice-enabled online shopping leverages voice commands and virtual assistants like Amazon's Alexa for to interact with online stores using natural language.
It aims to simplify the user experience. Therefore, it reduces friction in the purchasing journey while catering to the increasing demand for seamless and intuitive digital interactions.
While this isn't a brand-new trend, you should consider it during custom eCommerce development. Especially considering how shopping via voice-activated devices grew from $2 billion to $40 billion between 2017 and 2022.
Here are some things to remember when rolling out this trend:
Ensure that your platform can understand natural language commands and questions accurately to provide seamless user experiences.
Utilize past purchase history and user preferences to offer tailored product recommendations and suggestions.
Have robust security measures for user authentication and payment authorization to protect sensitive information.
Do your research on hands-free navigation. Your goal should be to enable users to interact with your platform using voice commands, without lifting a finger.
Ensure your voice-enabled shopping system's compatibility with various devices and platforms to reach a wider audience.
Design the voice-enabled interface with accessibility features in mind to accommodate users with different abilities and needs.
2) Device-First Development
If your next custom eCommerce development project is a mobile commerce (mCommerce) one, this trend is for you.
Device-first thinking means prioritizing seamless and optimized user experience on different devices when designing and developing mobile commerce platforms.
By adopting this approach, your m-commerce platforms will be user-friendly, responsive, and accessible across different mobile devices. Therefore, they can enhance customer engagement, satisfaction, and overall conversion rates. Most importantly, you can foster customer loyalty.
For Shopify apps, this can be relatively easier since there are many themes available to help with this aspect. However, you can achieve this too with the right skilled eCommerce development team on your side.
3) Headless eCommerce
One of the exciting custom eCommerce development trends is headless platforms.
In a headless eCommerce website, the front-end presentation layer (the "head") is decoupled from the back-end eCommerce functionality. So, front-end elements like the user interface and the customer experience are managed separately from back-end elements such as database and logic.
As the front-end isn't tightly integrated with a specific content management system (CMS) or eCommerce platform, you get greater flexibility. Especially when designing and delivering content.
Moreover, separating the front-end and back-end delivers shopping experiences across different channels and devices more efficiently.
Another advantage of headless eCommerce is improving SEO. This is possible through –
Faster page loading
Enhanced mobile responsiveness
Easier content optimization
Streamlined metadata management
Flexibility for implementing structured data
4) Hyper-Personalized Experiences
Forget about simple personalization. Your next custom eCommerce development should target hyper-personalization to ensure your platform's success.
Hyper-personalization means tailoring every aspect of the online shopping experience to customers' individual preferences, behaviors, and needs. It goes beyond traditional personalization techniques by leveraging data analytics, artificial intelligence, and machine learning algorithms.
With hyper-personalization, your platform can deliver highly customized product recommendations, targeted marketing messages, and personalized content in real-time.
You also get to create deeply personalized and relevant interactions at every touchpoint, enhancing customer engagement and satisfaction. This, in turn, maximizes customer loyalty and adds more to your bottom line.
5) Augmented Reality
You may want to include augmented reality (AR) to your custom eCommerce development plan. Some of the benefits you can get from it include:
Enhanced Customer Experience – AR enables customers to virtually experience products before purchase. Therefore, they can make informed buying decisions and be satisfied with your eCommerce solution.
Reduced Return Rates – By allowing customers to visualize products in their own environment, AR minimizes the likelihood of mismatched expectations. This, in turn, reduces return rates.
Increased Engagement – AR experiences foster higher user engagement and longer session durations. This leads to improved brand interaction and customer retention.
Personalized Shopping – AR enables personalized product visualization and customization. As a result, customers get to tailor products according to their preferences and needs.
Improved Sales Conversions – AR offers a more immersive and interactive shopping experience. Moreover, you can leverage it for innovative marketing campaigns. These increase sales conversions and average order values.
Brand Differentiation – AR can help you easily create a unique and memorable brand, leaving a lasting impression on customers and fostering brand loyalty.
Reduced Purchase Anxiety – This 4IR technology provides a more accurate depiction of products. For you, this means increased customer confidence and satisfaction.
6) New Payment Methods
Since COVID-19, there has been a surge in contactless payment methods. This trend won't be slowing down any time soon, which is why you need to meet the demand head-on.
Here are three payment methods to keep in mind for 2024 and the future –
NFC Technology – Near Field Communication (NFC) technology enables secure and contactless payment transactions. Users can make payments by simply tapping their NFC-enabled devices or cards near a compatible terminal. Not only does this ensure convenience, it also adds speed and enhanced security to your payment process.
Mobile Wallets – While not a brand-new payment option, mobile wallets are expected to dominate eCommerce solutions in the future. These applications store payment card information on a mobile device, enabling users to make secure and convenient transactions. They support quick payments by allowing users to tap their smartphones or scan QR codes. As part of your custom eCommerce development solution, wallets can enable you to offer features like loyalty programs and receipt storage.
Cryptocurrencies – These currencies based on blockchain technology offer secure, borderless transactions with lower fees and faster processing times. They're also growing in popularity as an alternative means for online transactions, investments, and decentralized financial activities.
Wish to Learn More?
Our custom eCommerce development team is here to help you discover the latest trends and incorporate them in your next venture. Let us know how we can help in the form below and let's get started!