Custom App Development
On Demand App Development – 5 Ws (and 1 H) to be Asked
Qurat Ul Ain Nasir
30-May-2023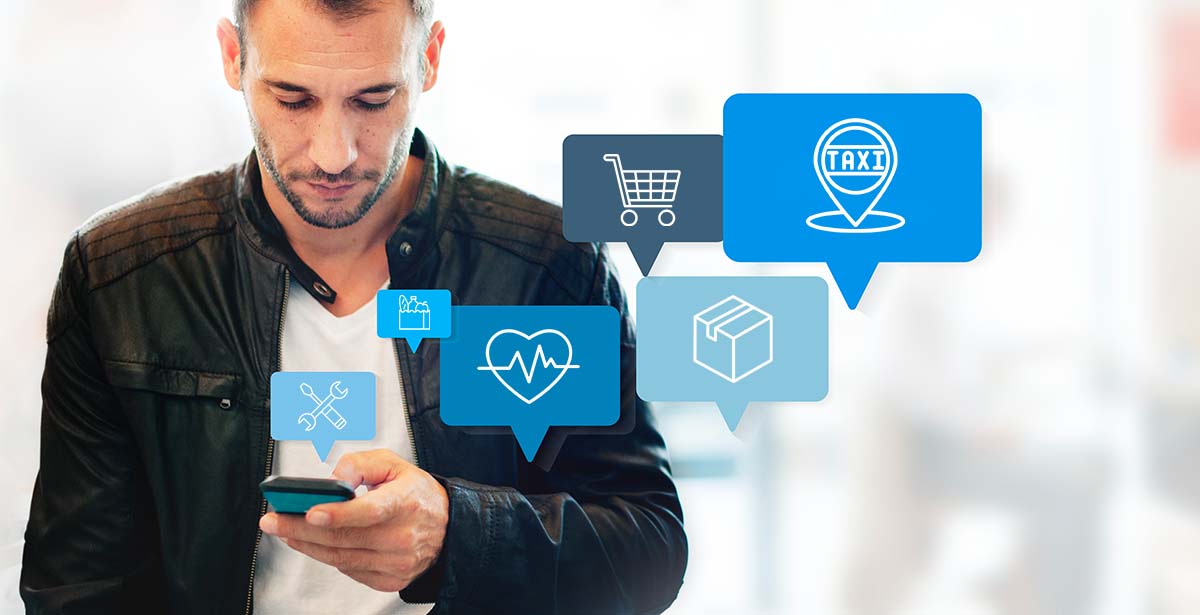 Netflix, Uber, and Zomato are some of the on demand app development success stories out there. These have ushered an era of innovation that many -including you yourself – are willing to be part of.
If you've been toying around with the idea of your very own on-demand app, the six questions and answers below are for you.
1) What is an On Demand App?
An on-demand app is a mobile application that allows users to request and receive services or products when needed.
Promising users added convenience, they work as a middleman between business and customer. They connect service providers or sellers with customers in real time. That way, users can access various services or products anywhere, anytime, and with a few taps on their smartphones.
Types of On-Demand Apps to Create
If you're planning to create an on-demand app, it can be one of three types –
Business-to-Business Apps – B2B on-demand apps connect businesses with services or products they need on demand.
Business-to-Customer Apps – A B2C app allows businesses to sell products or services to consumers. These apps are made for specific purposes, like providing information about products, giving access to customers to purchase items, or offering customer support.
Person-to-person Apps – A P2P app enables users to exchange goods or services, and perform payments through specific and special platforms.
2) Who Does On Demand App Development Benefit?
The short answer is – everyone.
On-demand apps have gained popularity across various industries, allowing businesses to expand their services to a broader audience. Here are a few industries you can target with your next on demand app development project.
Transportation – The transportation industry has been revolutionized by on-demand ride-sharing apps like Uber and Lyft. These apps connect passengers with drivers, offering a convenient and efficient way to book rides. They also empower individuals, allowing them to earn on the side.
Food Delivery – On-demand food delivery apps such as DoorDash and Uber Eats have transformed the food industry. These apps enable customers to order food from their preferred restaurants and have it delivered to their doorstep. By leveraging these apps, restaurants can expand their customer base and increase revenue by reaching a wider audience.
Home Services – On demand app development has also disrupted traditional home services, connecting customers with service providers like plumbers, electricians, and handymen.
These apps make it easier for people to find skilled professionals for various tasks, promoting convenience and efficiency for both customers and service providers.
Grocery Delivery – On-demand grocery delivery apps allow customers to order groceries online and have them delivered to their homes. Particularly during the COVID-19 pandemic, the demand for contactless shopping increased significantly. Plus, these apps have helped grocery stores reach customers who prefer the convenience of home delivery.
Healthcare and Telemedicine: On-demand healthcare apps provide virtual consultations, medical advice, and prescription services. They connect patients with healthcare professionals remotely, improving accessibility and convenience for healthcare services.
Beauty and Wellness: On-demand beauty and wellness apps have made it convenient for users to book spa appointments or get services at home. This, in turn, has helped many businesses thrive even during the recent slump.
3) Why Should You Develop an On-Demand App?
Whether you're a service provider or an appreneur, you probably want some insight into why you should invest in on demand app development. Here are some great benefits you can expect to reap with such an app.
Real-time Tracking
This feature allows both your team and customers to efficiently track orders or services in real time.
Industries like logistics greatly benefit from this functionality as customers and service providers can track the location of vehicles and estimate the time of arrival.
Market Longevity
The number of mobile users is continuously growing, and the adoption of on-demand apps is on the rise.
According to Statista, US consumers spend $57.6 billion per year in the on-demand economy serving 22.4 million users. Plus, businesses recognize that these apps provide long-term viability in the market.
Employee Satisfaction and Efficiency
By connecting customers directly with service providers, an on-demand app improves processes and enhances efficiency.
Ultimately, this achieves a positive return on investment for businesses. In turn, this leads to employee satisfaction as work is streamlined and completed quicker.
Data Safety
On demand app development prioritizes data safety. This is something traditional business models can't claim as they're more likely to be at the risk of consumer data leaks and security breaches.
Apps won't only store data securely, but they'll also protect against unauthorized access.
Scalability
On-demand apps can easily adapt and scale to meet changing consumer demands. They are flexible and can quickly adjust to evolving market conditions.
Moreover, they provide a competitive advantage by flexibly introducing new products or services in the market.
Potential Growth
Having an app these days is a surefire way of growing your business in the digitized era.
The best news is that on demand app development is more cost-effective than traditional development. So, you can expect to see profits sooner.
4) When to Develop an On-Demand App?
The best time to start your on demand app development project is now. And here's why –
The market for on demand applications is expected to be valued at $335 billion by 2025.
Of 310 private companies valued at $1 billion, 23 belong to the on-demand industry. Combined, their value is over $203 billion.
The 22.4 million users in the on-demand economy spend $57.6 billion annually. Appreneurs investing in on demand app development can easily make more money as 60% of US users tend to pay extra for the option of same day delivery.
So, it's about time that you make your entry in this lucrative market.
5) How Can You Create a Great On-Demand App?
If you're reading this line, chances are the previous answer has you rearing to start your on demand app development project. So, here's what you should be doing next.
Learn About Everything Related to On Demand Apps and the Industry
Start by learning about your customers, their buying patterns, and their interests. Take notes and gather insights to better understand their needs and preferences.
You should also do your research on the tech stack used for developing on demand apps. This will further help you find the right development team for your idea.
Choose a Niche for Your Upcoming App
Don't limit your growth potential to existing categories. The world of on-demand services offers endless possibilities to explore. So, instead of following the footsteps of successful companies, keep your options open and find a unique specialization.
However, simply filling a niche is not sufficient. You must create a product that people will genuinely love and will significantly improve their lives. Therefore, focus on developing an app that's reliable, user-friendly, and accessible at all times.
Decide Which Functions Will Make Your App 'Sell'
Like your offerings, your app should stand out. This is possible through a variety of features that your customers wish to see.
While the features of an on-demand app for the beauty industry will differ from that for retail, some common features to consider are –
User Registration and Authorization – Easy profile creation for users will win them over. It'll also provide valuable behavioral information that you can use to advance your business.
Product/Service Search, Filters, and Lists – You can ensure efficient navigation and help users find their what or who they need through filters, lists, and catalogs.
Map Integration and Live Delivery Tracking – Geolocation services enable users and service providers to track each other's whereabouts and estimate arrival times.
Shopping Cart and Order Summary – Users will be able to review, modify, or cancel orders, appointments, etc. from the shopping cart. Order summary further allows them to calculate costs and be smart with expenses.
Payment Methods Integration – Seamless and secure integration with multiple payment gateways will ensure smooth transactions for users. At the same time, it ensures easy access to funds for service providers.
Ratings and Reviews – This is a vital feature as it helps users make informed choices based on reviews and ratings.
6) Where to Find the Best On Demand App Development Team?
Well, there are many factors you can consider to choose the best on demand app development team. For starters, you can consider their expertise, cost, and capacity.
However, you can skip your search as you've already found one of the best developer teams with vast experience.
Over the span of two decades, we have worked with both startups and larger organizations to digitally transform their businesses. From simple apps to system overhauls, we have innovatively solved their problems with unique, custom-made products.
Get in touch with us via the form below and start your upward journey in the on-demand economy!