Abstract
Vision 2030 is the blueprint that Saudi Arabia is following to usher an ambitious nation into a future full of opportunity and a thriving, high-performing economy.
Through this whitepaper, DPL explores how digital transformation can help achieve the goals of this initiative across different industry sectors. The document further highlights how the Internet of Things (IoT) can fuel the power of digital transformation; a fact proven by numerous IoT projects carried out across the country 
The Progress of the Kingdom's Digital Transformation Against Saudi Vision 2030 
By October 2022, the Kingdom of Saudi Arabia (KSA) reached the last phase of its digitization action plan, the National Strategy for Digital Transformation. 1 The final stage, which is known as the Smart Government Strategy, aims to provide a seamless government experience by 2024.
However, this was no easy journey for the country best known for the production of oil. While the Kingdom initially embraced this transformation to enrich its energy sector, it did not take long before artificial intelligence (AI), the Internet of Things (IoT), and other innovative technologies found purpose in other sectors.
Faced by social and economic upheaval, the Kingdom prioritized a shift towards a digital, sustainable future that would enhance its resilience and add to its appeal to investors. Therefore, in 2017, the Digital Saudi 2030 vision started taking form, beginning with a $15 billion investment in information and communications technology (ICT) infrastructure.2 This would later prove to be a vital and important step as working remotely and social distancing became the new norm three years later.
Currently, digital transformation spending amounts to $3.19 billion a year, as reported in February 2022.3 Almost 50% of this is invested in enterprise and ICT. Moreover, after LEAP 2022 – an event aiming to accelerate the Kingdom's growth towards becoming a digital economy – an estimated $2.13 billion of foreign investment has poured into the IT market. The Fintech sector has especially grown since 2020, with investments growing from $144 million to $400 million come 2021.
Digital transformation spending amounts a year

Invested in enterprise and ICT?

Fintech investment growth in 2021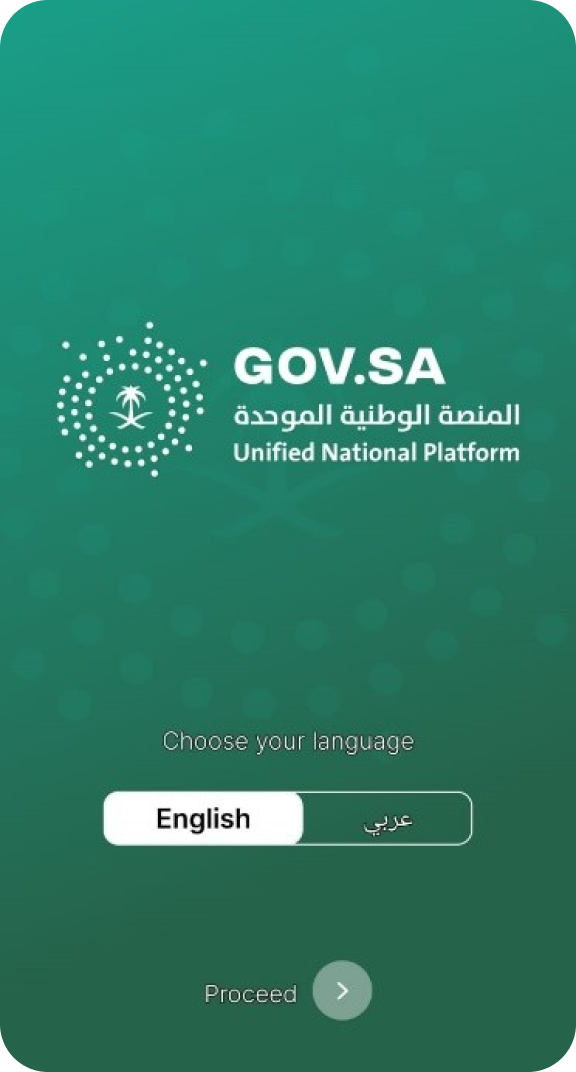 The government sector has especially been thriving. An e-government app named GOV.SA has been developed, linking all government services and complementing service centers.4 Moreover, an operating model for the Digital Government Authority has been designed to digitize the government as a whole while experimenting with new technologies such as AI, blockchain, and IoT. Moreover, a National Digital Government Experience, Innovation Hub, and a National Government Digital Academy have been developed to further support innovation across the sector.
Government and ICT aside, one of the important sectors impacted by digital transformation and Vision 2030 is modern trade and e-commerce. According to BCG, the sector was lagging in the e-commerce market share globally.5 However, the latest digitization trend has increased its value to 60% between 2019 and 2020. Projections now estimate the sector to have a value exceeding $13.31 billion by 2025.
Meanwhile, large corporate and private companies are trying to catch up with the fast-paced changes or else lose their leading position.
One of the prominent digital success stories is that of the National Water Company (NWC), which is lauded for incorporating massive digital changes in the past year and is considered by many international experts as an insightful case study for digital transformation in water utility.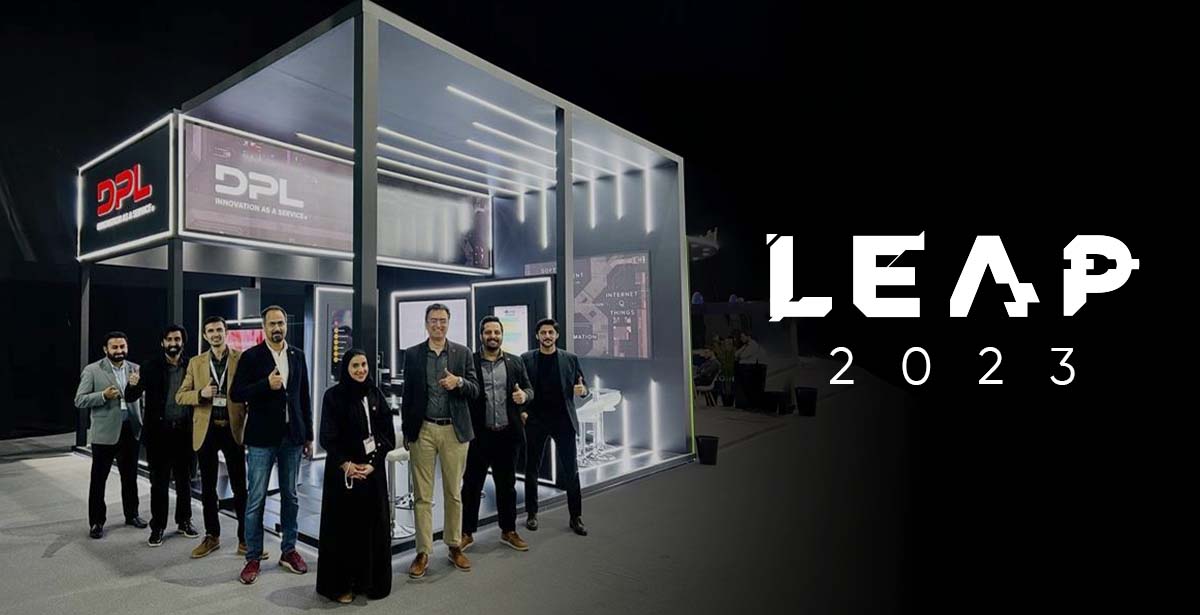 Events
LEAP 2023 marks DPL's return to the technology event after successfully participating in its first edition last year. However, this year was different. We wanted to make a stronger...
Rebels' Desk | 5 Min Read 20-Feb-2023
The Saudi Difference in Adopting Digital Transformation
The Kingdom has been quite quick to embrace technologies that add to its digital competitiveness. According to the 2021 Digital Competitiveness Report by the European Center for Digital Competitiveness, the country ranked second globally among the G20 countries 6. Other achievements the report highlights are: Rank 1 in Business Environment Reforms Rank 2 in Spectrum Allocation Rank 3 in 5G Deployment Rank 11 in Legal Framework Adaptability to Digital Business Models Rank 13 in Internet Speed Rank 13 in Digital Capacity Index Rank 39 in Digital Competitiveness
Rank 1 in Business Environment Reforms
Rank 2 in Spectrum Allocation
Rank 3 in 5G Deployment
Rank 11 in Legal Framework Adaptability to Digital Business Models
Rank 13 in Internet Speed
Rank 13 in Digital Capacity Index
Rank 39 in Digital Competitiveness
Moreover, despite being relatively late to the digital transformation race, the report revealed the Kingdom had a high rate of government service maturity at 81%.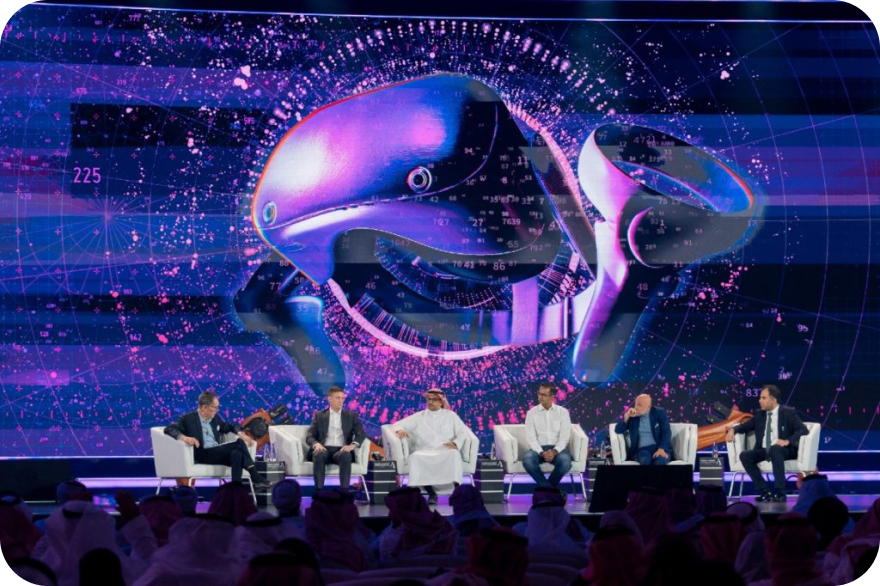 Further significant advances are expected as the country shared its plans to invest over $6.4 billion in new technologies like Web3 and Metaverse during LEAP 2022.7 The NEOM Tech & Digital Company has already announced plans for launching its own metaverse to enable users to interact with one another. Saudi state-owned oil company Aramco too believes in the power of blockchain technology, announcing its intention to invest in companies providing this technology as well as other futuristic technologies.
Like the present, the future of digital transformation in KSA appears to be quite bright. According to PwC's survey 25th CEO Survey: Middle East, 52% of respondents from the Kingdom and other parts of the Middle East aim to increase their digital transformation investments by double digits over the next three years. 8
In addition to the Kingdom's own ambition to rank among the top 15 countries to transform in 2030, one of the factors ensuring a positive future outlook for the Kingdom is its thriving tech savvy population under the age of 30. PwC attributes the Millennials segment in the population for helping the country rise to the top, recognizing them as "the key enabler of the Kingdom's Vision 2030".
Millennials along with younger customers have made changes to market behavior and consumption patterns. For instance, they are considered the reason for the Kingdom having one of the highest percentages of social media utilization globally. As this age group demands seamlessness and convenience, all the country's sectors need to comply or else lose the business and trust these consumers have to offer.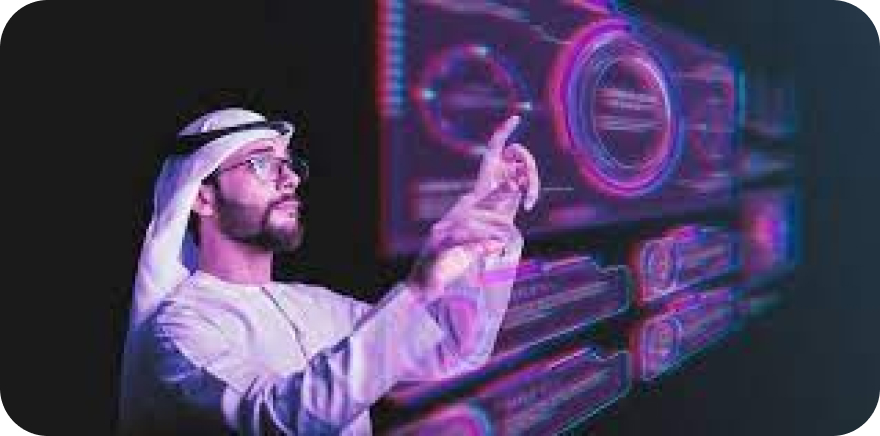 Saudi Arabia's youngsters are also driving change in another way. As the ideal candidates for embracing digital skills and using them in the workforce, the Kingdom has launched numerous technology initiatives worth over $1.2 billion to empower over 100,000 potential innovators by 2030.9
Another equally important driver for success is the Communications and Information Technology Commission (CITC). By 2021, the CITC has licensed over 60 internet service providers and worked closely with them to adapt to the higher demand for online access and data through the COVID-19 pandemic.10 It also issued regulatory frameworks for cloud computing, IoT, and other digital issues. CITC's role further expanded to other sectors considering the role they play in supporting the ICT sector. For example, it became involved in regulating the postal sector due to the latter's ties to e-commerce.
Initiate your digital transformation today
Contact Us
Unique Challenges Facing the Kingdom
The Kingdom's non-stop efforts towards digitally transforming all its industries has put it on the fast-track to achieving this goal. According to Dell Technologies' Digital Transformation Index 2020, 90% of the country's organizations as well as those in its neighbor the United Arab Emirates (UAE) have accomplished in a few months what would have otherwise taken years. This percentage is higher than the global benchmark of 80%. Moreover, 85% of KSA and UAE organizations have re-invented their business model due to disruption – which is 6% ahead of other organizations across the world. In spite of these uplifting numbers, Digital Transformation Index 2020 lists three stumbling blocks that can hinder the country's digital transformation efforts:
Cyber Security

Data Management

Pandemic-related Economic Disruptions
Cybersecurity Threats and Solutions to Consider
Cybersecurity concerns have been on the rise since Q4 of 2021. With the reopening of hajj, the Deputy Minister of Hajj and Umrah Dr. Abdul Fattah Masha went on to further report over two million cyberattacks in June 2022 alone.11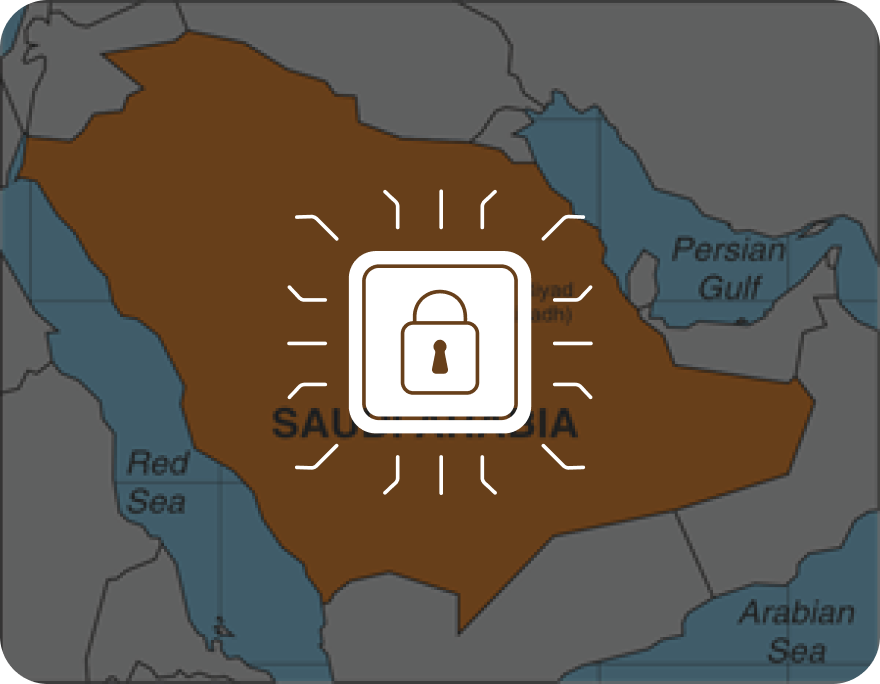 According to research from YouGov commissioned by Palo Alto Networks, 67% of Saudi organizations have experienced a cyberattack between November 2021 and November 2022.12 Most of these attacks – 66% – were due to remote and hybrid work models, whereas 41% were the result of employees' lack of security awareness.
As a result, companies were faced with ransomware threats. According to Ercan Aydin, Regional Vice President at Palo Alto Networks MEA, cyber criminals have taken advantage of the lack of Zero Trust approach to cybersecurity.
"As the number of attacks has grown, so has the average ransom demand, which averaged $2.2 million in 2021 globally, representing a 144% increase from the year before. The need to secure the new 'anywhere' workforce has become a priority – from virtual hot desks to meetings in the metaverse. As ransomware actors become more sophisticated, and the number of attacks continues to rise, a Zero Trust approach to cybersecurity is critical in order to stay ahead of threats."
Sadly, 79% of surveyed Saudi organizations reported paying over $100,000 as ransomware payments. While 62% have taken necessary measures to defend against these attacks, only 41% believe they are fully protected.
Surveyed Saudi organizations paid $100,000 as ransomeware payments

Organizations have taken necessary measures

Organizations believe they are fully protected
As the government has received the lion's share of transformation efforts, its e-government is expected to face more security challenges, namely hacking and fraud. According to research by the University of Jeddah, the e-government is susceptible to complex hacking attacks targeting the main data of numerous institutions.13 Similarly, cyber criminals can transmit anonymous digital messages, prompting users to install malware that obtains data and information which they can use for their personal benefit.
The best way to counter cybersecurity threats is cybersecurity preparedness. In fact, this is one of the key indicators of any organization's digital transformation success. To address this, a Governance, Risk, and Compliance (GRC) strategy is imperative as it ensures heightened data privacy and security while ensuring business continuity, enhancing decision making, and automating regulatory compliance.
The weakest link, i.e. humans, should also be addressed. All it takes for malware to wreak havoc is someone clicking a harmful link or downloading an attachment. Therefore, cybersecurity education to create awareness is necessary.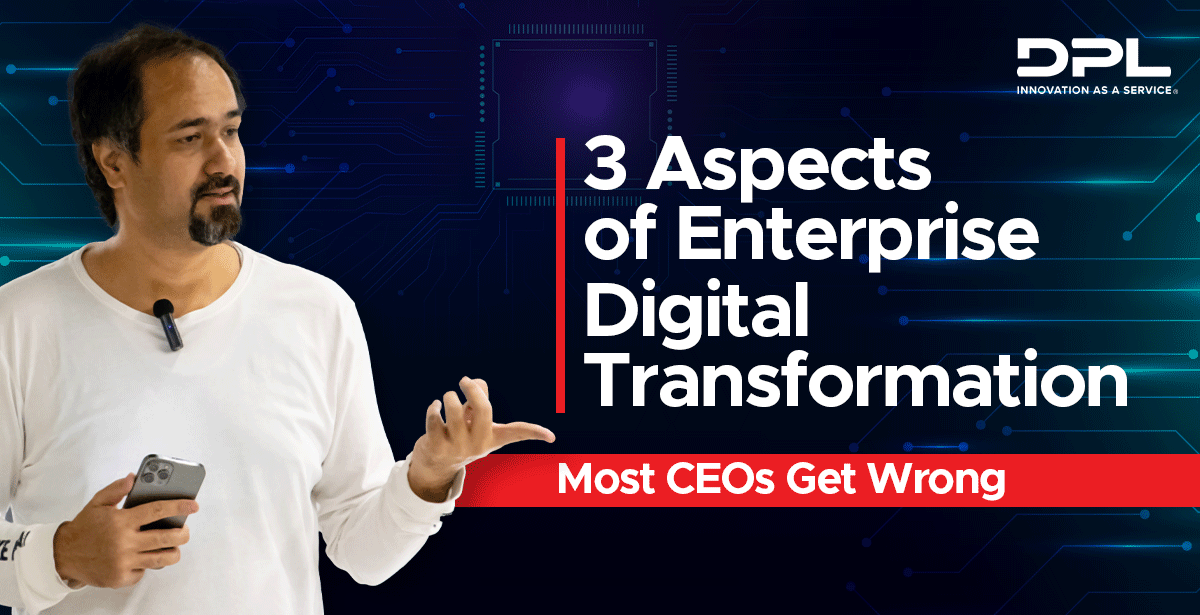 Digital Transformation
The demand for enterprise digital transformation won't be slowing down any time soon. In fact, corporations are expected to spend up to USD 1.8 trillion in 2022 alone. This number will...
Syed Ahmad | 6 Min Read 01-Jun-2022
Data Management Challenges and How to Overcome Them
Data management challenges are far from new in the Kingdom. In 2013, there was an intensifying demand for storage data center consolidation and server virtualization.14 These resulted in unacceptable downtime levels as well as data loss. In 2019, researchers identified several challenges organizations face while implementing business intelligence.15
Difficult access to data sources and the inability to use them effectively to increase user productivity Inability to define criteria for data selection
Incorrect use of data queries and inability to write queries for accessing and extracting data
Ensuring the integrity, security, and distribution of data; as well as incorporating data into data warehouses
Lack of well-defined policies for data management and data governance
Inability to select and correctly visualize data by casual users Complexity of BI tools and not matching tools with the right users
BI results that are difficult to understand or lack a desirable format and interface
Many of these issues still continue impacting the country's digital transformation initiatives, which is why the government is actively engaging international and local tech organizations to explore solutions that can establish secure data management, analytics, and an infrastructure for effective utilization. Moreover, organizations are investing in different technologies that can help them gain critical insights, improve how they do business, and predict potential crises.
Pandemic-related Economic Disruptions and Possible Resolutions
The most recent barrier to digital transformation is the global recession brought on by the pandemic. According to the United Nations (UN), the country's GDP grew by a meager 0.3% in its non-oil segment.16 Meanwhile, the oil segment was affected like the rest of the world, declining by 3.6%. The Kingdom's fiscal deficit was relatively higher, and public debt rose by 3.8% making the GDP in 2019 equal to 22.8%.
Low oil prices and the pandemic had a profound effect on KSA. The shock was so strong that it threatened to roll back all the progress the Kingdom had made when it came to economic and socio-economic aspects, including its digital transformation efforts.
However, the Kingdom did take advantage of the slower pace to focus on digital excellence. It also began reviewing the policies and regulations that could hinder its progress towards a digital world, while enhancing the quality of digital infrastructure.
The Role of IoT in the New, Digital Kingdom of Saudi Arabia
However, the Kingdom did take advantage of the slower pace to focus on digital excellence. It also began reviewing the policies and regulations that could hinder its progress towards a digital world, while enhancing the quality of digital infrastructure. The Internet of Things is one of the main technologies pushing the Kingdom closer to achieving Saudi Vision 2030. In fact, in 2018, the country held several events such as the first Saudi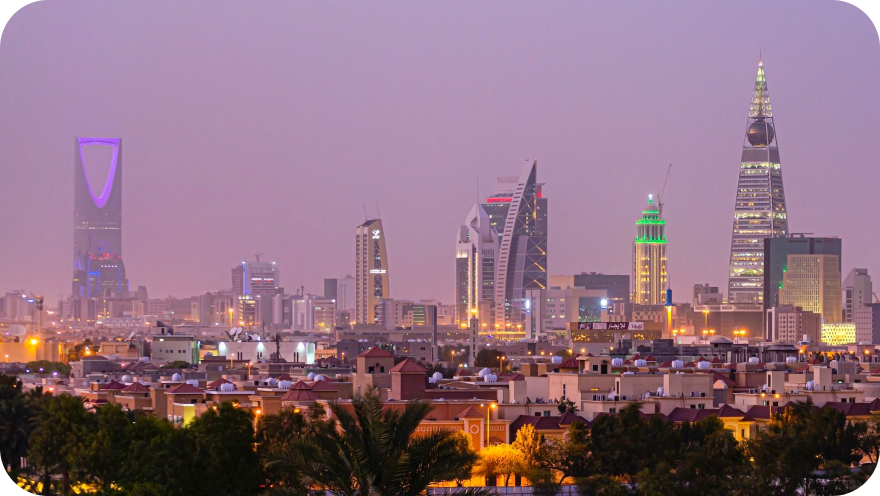 The Internet of Things is one of the main technologies pushing the Kingdom closer to achieving Saudi Vision 2030. In fact, in 2018, the country held several events such as the first Saudi
International Exhibition and Conference for Internet of country held several events such as the first Saudi International Exhibition and Conference for Internet of Things (IoT). Moreover, the Council of Saudi Chambers (CSC) emphasized on the use of this technology in healthcare, transportation, and communication for quick data collection, analysis, and real time monitoring.
As of January 2023, the Kingdom has the following key IoT projects underway or in the pipeline.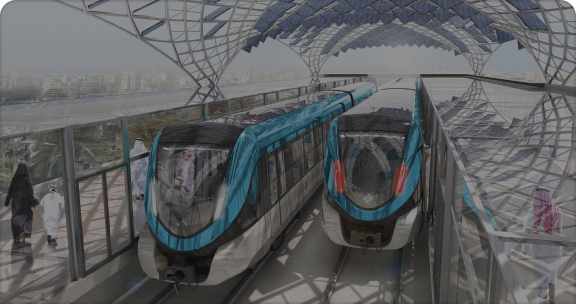 Riyadh Metro and Riyadh Rapid Bus Transit
Touted as the world's biggest urban rail project outside China, Riyadh Metro offers integrated solutions along a cutting-edge metro equipped with innovative technologies and services. As for the new public transit system, this features advanced solutions such as driverless train cars equipped with Wi-Fi and hi-tech solutions.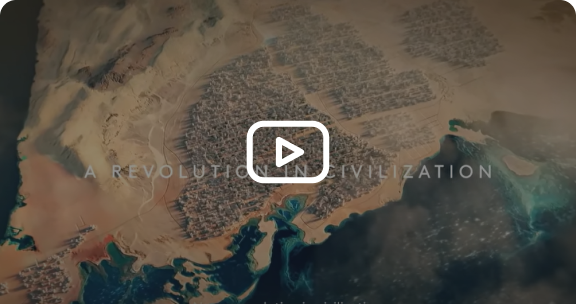 NEOM
Saudi Arabia's revolutionary smart city is leveraging IoT, robotics, and blockchain among other technologies in The Line, which is going to be the world's first cognitive city. With The Line, NEOM will outgrow its status as a smart city to become a technology hub fueled with data and intelligence.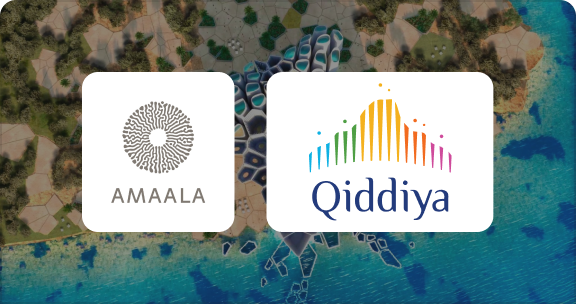 Amaala and Qiddiya
Amaala is an ultra-luxury destination whose blueprint was established by the Public Investment Fund (PIF) Development Management Organisation. The development broke ground in 2020 and work is underway in line with Vision 2030. Like Amaala, Qiddiya will be relying on IoT to become the new capital of Entertainment, Sports, and the Arts in the Kingdom.
In addition to these, several IoT use cases are found in various areas such as public safety and emergency response, freight management, and production asset management. These will further IoT's uptake in the country in the next five years.
To further fuel innovation, the government has conducted several events. In addition to Saudi IoT, a flagship event for emphasizing the growth of technologies, applications, and services utilizing IoT platforms, some notable events include the Make it & Play It competition, video game development bootcamp, the Promising Programmer competition, the Game Changers program, and the Hope Hackathon.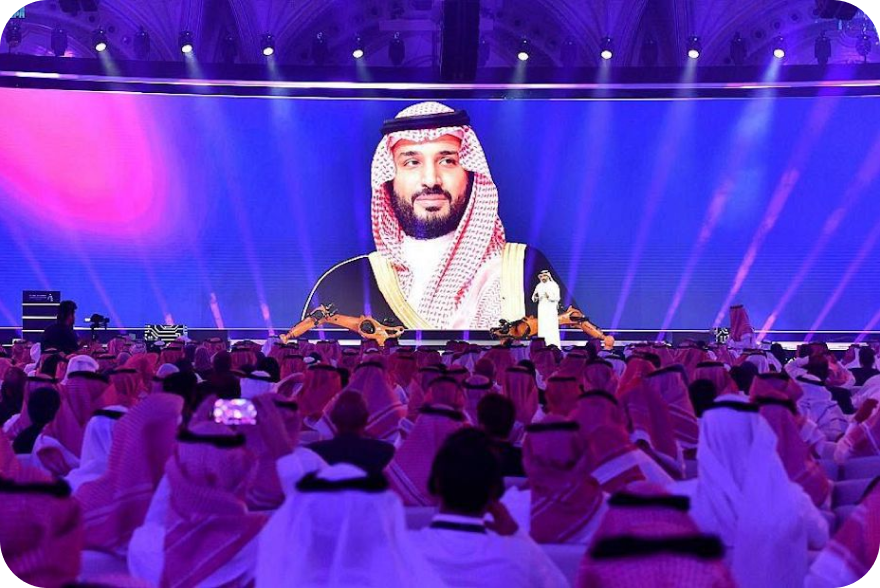 IoT will further gain traction in 2023 and beyond. The Saudi Crown Prince, His Highness Prince Mohammed bin Salman bin Abdulaziz, has revealed the National Transformation Plan (NTP) which aims to improve government efficiency while diversifying the country's economy by increasing jobs in the private sector and growing non-oil industries. With the help of NTP, the country's assets and skills will be leveraged to overcome the current challenges of being a single-product economy.
Another initiative to look forward to will stem from STC's $131 million partnership with the PIF to create a new IoT specialized company that will enable internet-connected devices. STC has already began investing in expanding its infrastructure to support 5G and NB-IoT connection. It is partnering with many tech giants to empower its IoT initiatives. In September 2022, PIF and STC signed a MoU with Honeywell and IoT-squared to support the advancement of IoT projects in the Kingdom, especially those related to smart city development and advancing technology adoption in the society.
STC and other local carriers have also onboarded Ericsson to accelerate the Kingdom's transformation into a connected society. The public sector will further thrive by connecting 'things' to the internet. In the report, Vision 2030: A Connected Future, developed by Wipro Digital and the Forum for the Future, business leaders highlight the potential of IoT for creating a sustainable future.17 The technology is believed to enable data integration, digital citizenship, transparency and reliability of data flows, and globalizing empathy.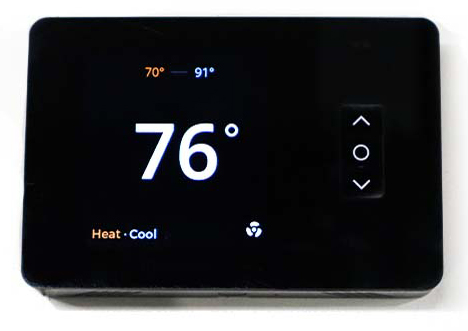 To be more specific, the energy, finance, healthcare, manufacturing, and transportation and logistics will be able to overcome many of their unique challenges. For example, the Industrial Internet of Things (IIoT) will allow manufacturers to optimize flows, reduce waste, and eliminate redundant labor. Similarly, financial institutions can implement IoT to improve the quality of the banking experience and automate procedures.
Achieving all this, however, requires being able to overcome major barriers which industry experts predict such as security risks, data monopolies, rebound effects, and lack of common standards. Thankfully, there have been many case studies proving these are not permanent blockers, especially with the right technology partner guiding Saudi organizations.
Arab News. (2022, October 1). Saudi Digital Transformation Strategy Enters the Final Phase. Retrieved January 6, 2023, from https://www.arabnews.com/node/2173316/business-economy
PwC. (2020). Lessons from lockdown: new ways of remote working in Saudi Arabia. Retrieved January 6, 2023, from https://www.pwc.com/m1/en/publications/lessons-from-lockdown-new-ways-remote-working-in-sa.html.
ETHRWorld.cm. (2022, September 15). The State of Digital Transformation in Saudi Arabia: Interview with Yasser N Alobaidan, Jawraa. Retrieved January 6, 2023, from https://hrme.economictimes.indiatimes.com/news/industry/the-state-of-digital-transformation-in-saudi-arabia-interview-with-yasser-n-alobaidan-jawraa/94205560
EY. (n.d.) How Digital Transformation Is Changing the Fabric Of A Nation. Retrieved January 6, 2023 from https://www.ey.com/en_sa/digital/how-digital-transformation-is-changing-the-fabric-of-a-nation.
BCG. (2021). The SAR 50 Billion E-commerce Opportunity in Saudi Arabia. Retrieved January 11, 2023 from https://www.bcg.com/publications/2021/e-commerce-market-50-billion-sar-opportunity-in-saudi-arabia.
European Center for Digital Competitiveness. (2021, September). Digital Riser Report 2021. Retrieved January 11, 2023 from https://digital-competitiveness.eu/digitalriser/.
Al-Monitor. (2022, February 1). Saudi Arabia to Invest Billions in Metaverse, Blockchain Technology. Retrieved January 11, 2023 from https://www.al-monitor.com/originals/2022/02/saudi-arabia-invest-billions-metaverse-blockchain-technology.
PwC. (2022). 25th CEO Survey – Middle East Findings. Retrieved January 6, 2023, from https://www.pwc.com/m1/en/ceo-survey/25th-ceo-survey-report-page.html
Suparna Dutt DCunha. (2022, February 2). Saudi Arabia Makes A Big LEAP In Digital Transformation. Martechvibe. Retrieved January 11, 2023 from https://martechvibe.com/martech/saudi-arabia-makes-a-big-leap-in-digital-transformation/
International Telecommunications Union. (2022). Country Review: Saudi Arabia's digital transformation and collaborative regulation. Retrieved January 11, 2023 from https://digitalregulation.org/wp-content/uploads/21-00770_R3_Saudi-Arabia-digital-transformation_E.pdf.
Tawfiq Nasrallah. (2022, July 5). Saudi Arabia Makes A Big LEAP In Digital Transformation. Gulf News. Retrieved January 12, 2023 from https://gulfnews.com/world/gulf/saudi/saudi-arabia-reports-2-million-cyberattacks-in-one-month-1.89049044.
Eye of Riyadh. (2022, November 24). 67% of KSA Organisations Face Cyber Attacks in Last 12 Months. Retrieved January 12, 2023 from https://www.eyeofriyadh.com/news/details/67-of-ksa-organisations-face-cyber-attacks-in-last-12-months.
Assiri, Khalid & Almdani, Khalid & Saeedi, Hassan & Softah, Abdullah & Khogeer, Sultan. (2022). Security Challenges for Digital Transformation in Saudi Arabia. International Journal of Scientific Research and Management. Retrieved January 13, 2023 from https://www.researchgate.net/publication/361620051_Security_Challenges_for_Digital_Transformation_in_Saudi_Arabia.
Saudi Gazette. (2013, August 17). Saudi Firms Need MDP Strategy to Meet Data Management Challenges. Retrieved January 13, 2023 from https://saudigazette.com.sa/article/56421
Fatimah H. Aljarba, Alhanouf A. Alsuwailem and Abdullah A. Altameem. (2019). Business Intelligence Challenges: Case Studies of Saudi General Agencies. Journal of Organizational Knowledge Management, Vol. 2019 (2019). Article ID 726493, DOI: 10.5171/2019.726493.
United Nations. (2020). Socio-Economic impact of COVID-19 in the Kingdom of Saudi Arabia and how to Build Back Better. Retrieved January 13, 2023 from https://saudiarabia.un.org/sites/default/files/2020-12/Socio-Economic%20impact%20of%20COVID-19%20in%20the%20Kingdom%20of%20Saudi%20Arabia%20and%20how%20to%20Build%20Back%20Better%2C%20Diagnostics%20paper%2C%20UN%20in%20KSA%2C%20November%202020.pdf
Wipro Digital. (2017). Vision 2030: A Connected Future. Retrieved 16 January 2023 from https://www.slideshare.net/WiproDigital/vision-2030-a-connected-future-82176993.
About DPL
One of the leading software development and IT companies around the world. Established in 2003, DPL serves customers in all major regions emphasizing most on Europe, Middle East and Americas. The services primarily include Digital Transformation, Product Engineering, IT Strategy & Consulting, and Custom Software Development.